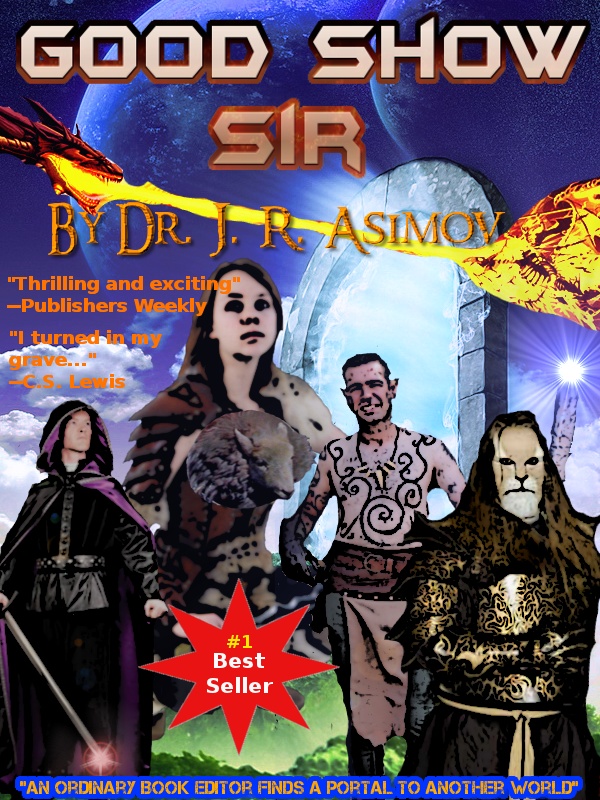 Click for full image
That's right! It is finally here – Good Show Sir: The Book! It's taken me a while to write because of the many pre-conjunctions but it's coming out this month! My family and friends told me my real name isn't strong enough so I have chosen a pen name to write under.
Title: Good Show Sir
Author: Dr. J. R. Asimov
Publisher: Self Published
Publish Date: 1st April 2013
Synopsis: Gilbert W. Izard is a mild-mannered book editor in search of that one special cover with everything on it. One day he happens upon a strange antique tome that leads him into a hidden world and on an adventure that neither he… NOR YOU… will ever forget.
And I even have a special treat for you! An excerpt from the book itself.
"Nooooo!" screamed Space Sheep the anthropomorphic cyborg sheepmage, as he dove in front of Evil Floating C.S.Lewis' head's laser beam.

Space Sheep lay on the ground motionless for he had taken the bullet laser for Tiffany deLarge Cleavage. She bounced over to him wearing her female adventurers outfit, just enough to cover her devil's dumplings and glared at Evil C.S.Lewis's floating head. "You monster," she muttered sorrowfully.

"That's right," proclaimed the Floating Evil Head of C.S. Lewis, "there is no-one left to stop me!"

Suddenly there was a voice.

"Think again Lewis!" said Gilbert W. Izard, a man of granite with muscles loved throughout every nation. He was: the greatest fighter in all the realm; a lover of women (apart from that one time in university); a dragon tamer; a skilled knife fighter; Pac-Man 2008 Blackpool International champion; a practicing magician; part time charity shop worker and, most importantly, an art director. "Kill you, I will, Lewis!"

Gilbert lunged forward with all his mighty strength as the Knife of Expelium plunged deeply through the forehead skin of Evil Floating C.Lewis' head.

After dying about an hour later, they all gathered around Space Sheep. "He was my friend…" acclaimed Timanus the Man Tiger.

"Don't," – Space Sheep coughed up blood and a bit of last nights lamb curry – "count me out yet!"

"As the old saying goes: adepto a generica metaphoricus postea!"
Good Show Sir – the novel – is available from:
Counter of Oxfam Second Hand Book Shop (Luton Branch)
Costa Coffee (Stirling Motorway Services Area M8)
Tagged with: April

27 Responses to "Good Show Sir – The Book!!!"
Leave a Reply