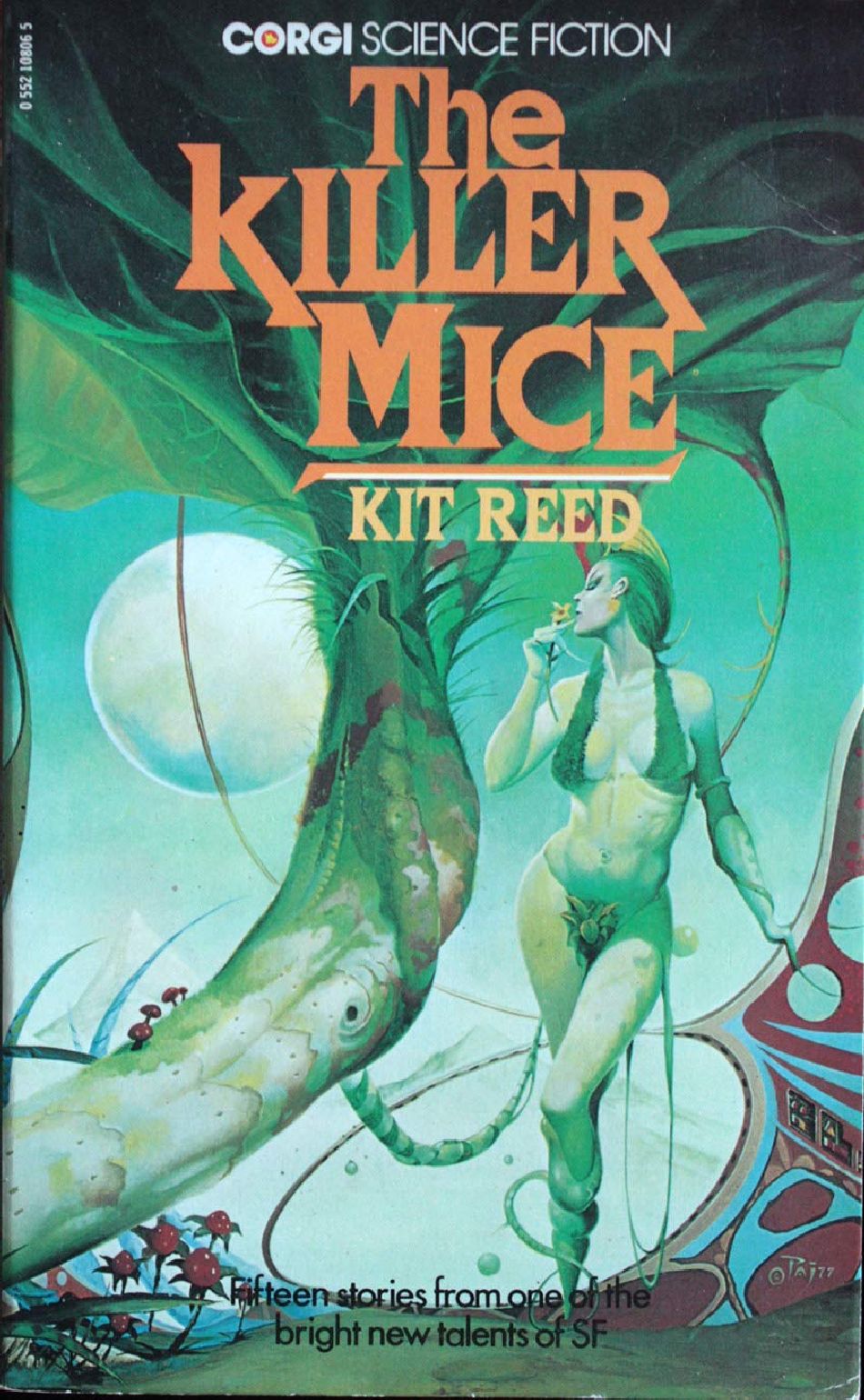 Click for larger image
Arthur Dent Comments: Jeez. Get a Brazilian.
Published 1978
Tagged with: anatomical issues • cleavage • Corgi Books • damsel • Kit Reed • moon • Peter Jones • tree people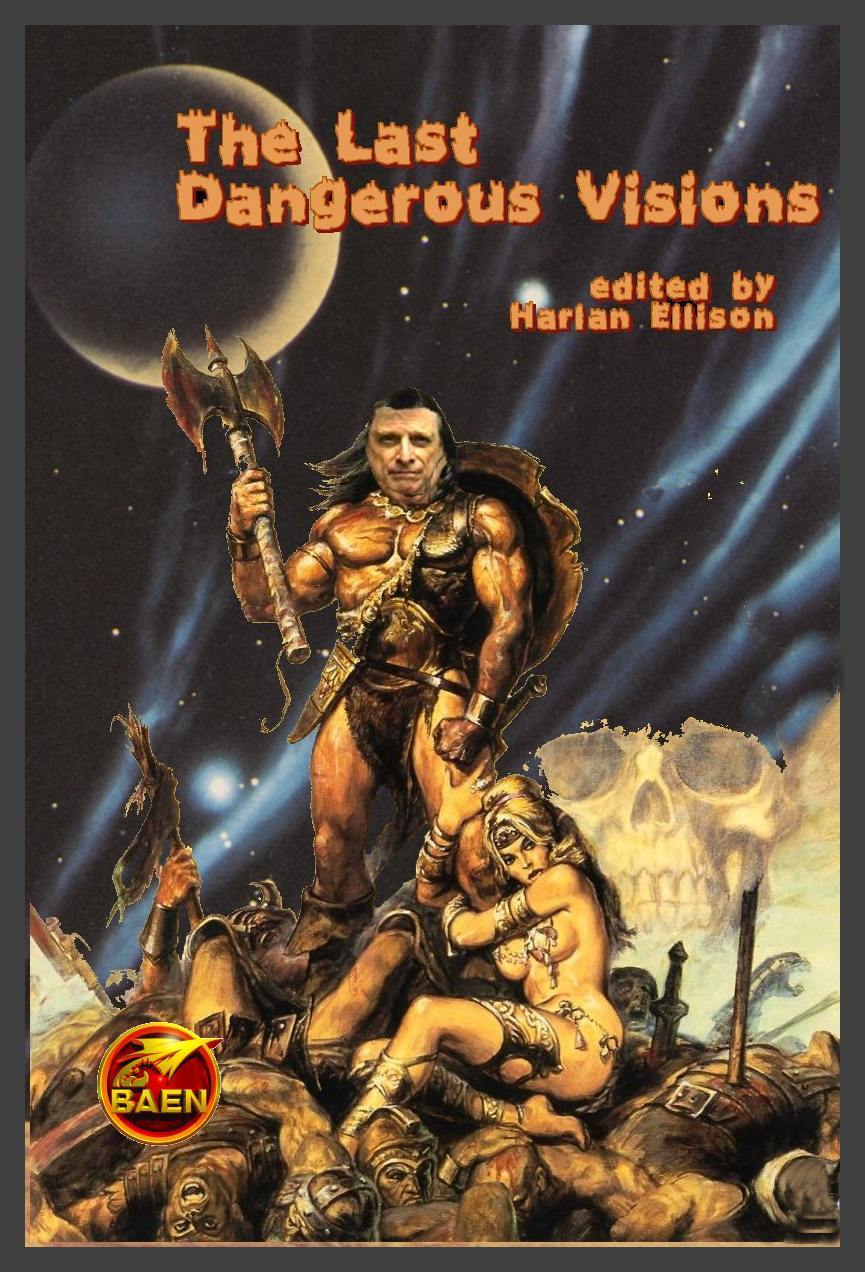 Click for full image
Good Show Sir Comments: Harlan Ellison has been promising to publish this for a long time. He allegedly had to wait for all the contributing authors to die off, so he could save money not paying them royalties.
Published 2017
Tagged with: A. Bertram Chandler • A.E. van Vogt • Alfred Bester • Algis Budrys • Anne McCaffrey • Anthony Boucher • April • Arthur Byron Cover • author in the comments • Avram Davidson • ax-wielding • Baen Books • Bob Leman • Bob Shaw • Bruce Sterling • Chan Davis • Charles L Harness • Charles Platt • Christopher Priest • Clifford D. Simak • Cordwainer Smith • corpse mountain • D.M. Rowles • damsel • Daniel Keyes • Daniel Walther • David Wise • Delbert Casada • Doris Piserchia • Doris Pitkin Buck • Edgar Pangborn • Edmond Hamilton • Edward Bryant • Faux-nan • Felix C. Gotschalk • Firesign Theatre • font problems • Frank Bryning • Frank Herbert • Franklin Fisher • Fred Saberhagen • G.C. Edmondson • George Alec Effinger • Gerard Conway • Gordon Eklund • Gordon R. Dickson • Graham Charnock • Graham Hall • Grant Carrington • Hank Davis • Harlan Ellison • Harry Harrison • Howard Fast • Ian Watson • Jack Dann • Jack Williamson • James Gunn • James Sutherland • Janet Nay • Jerry Pournelle • Joe Haldeman • John Christopher • John Jakes • John Morressy • John Varley • Jonathan Fast • Joseph F. Pumilia • Joseph Green • Kit Reed • Langdon Jones • Laurence Yep • Leigh Brackett • Leonard Isaacs • Leslie A. Fiedler • Lisa Tuttle • Mack Reynolds • Manly Wade Wellman • Michael Bishop • Michael G. Coney • Michael Moorcock • Mildred Downey Broxon • moon • Nelson Bond • Octavia E. Butler • Orson Scott Card • P.C. Hodgell • P.J. Plauger • Pamela Zoline • Philippe Curval • Raul Judson • Raylyn Moore • Richard E. Peck • Richard Wilson • Robert Lilly • Robert Sheckley • Robert Thom • Robert Thurston • Robert Wissner • Ron Goulart • Russell Bates • skulls a-poppin' • Stan Dryer • Steve Herbst • Steven Bryan Bieler • Steven Utley • Susan C. Lette • Thomas N. Scortia • Tom Reamy • Unknown Artist Institute • Vonda N. McIntyre • Wallace West • Ward Moore • William E. Cochrane • William Kotzwinkle • Wilson Tucker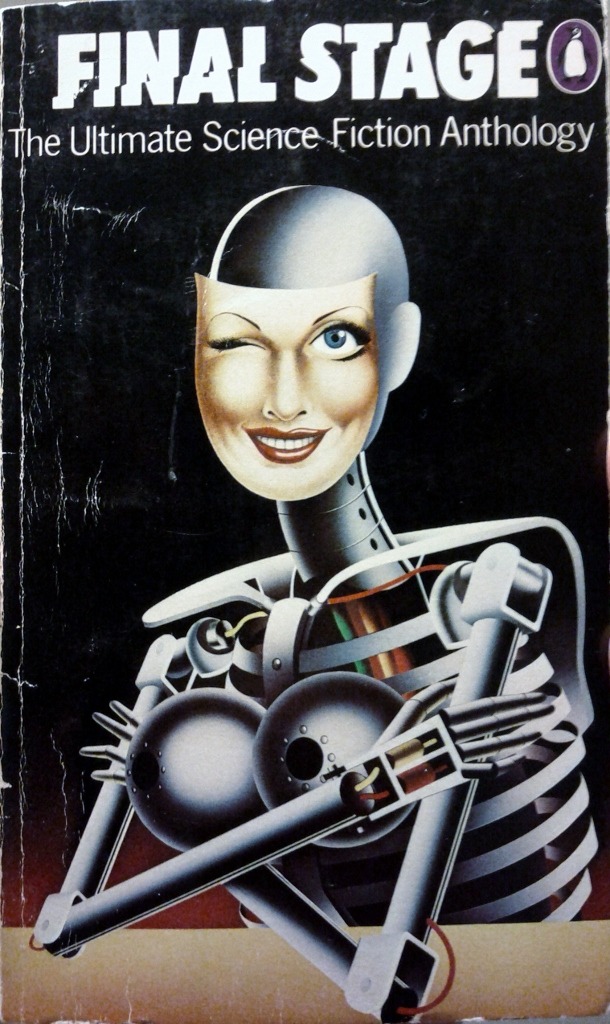 Click for full image
Dan Comments: Not sure if this is suppose to be sexy or terrifying, but the coy wink can't save it.
Published 1975
Tagged with: Barry N. Malzberg • Brian W. Aldiss • damsel • David Pelham • Dean R. Koontz • Edward L. Ferman • Frederik Pohl • Harry Harrison • Isaac Asimov • James Tiptree • Joanna Russ • Kit Reed • Penguin Science Fiction • Philip K. Dick • Poul Anderson • Robert Silverberg • robots • WTF